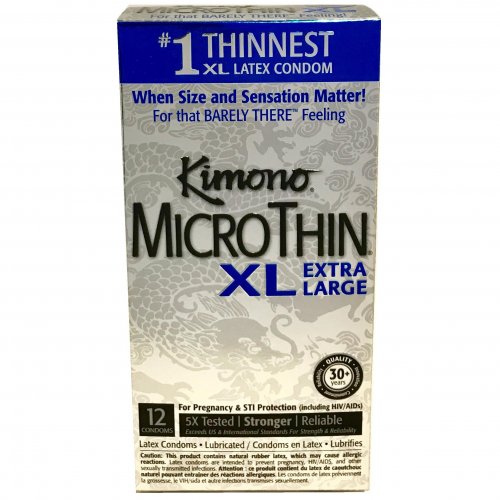 Kimono Micro Thin XL Condoms - 12 Pack
Made By:
Kimono
---
View Additional Images
---
---
Like Wearing Absolutely Nothing at All With More Even Room!
The Kimono MicroThin XL is the newest development from Kimono, who is obviously looking to take the crown for the thinnest XL sized latex condom on the market! The Kimono MicroThin XL condom is sure to prove that Size and Sensation matter!
New Kimono MicroThin XL condoms are 57.8mm Wide and 63mm Long and are the thinnest extra large latex condom on the market clocking in at a thinness of .057mm (Compare that to the Trojan Magnum XL at .085mm).
Kimono condoms are recognized worldwide as one of the leaders in sensitivity and strength. Kimono Microthin is one of the thinnest condoms available and is the perfect fit for men who find standard condoms slightly restrictive. MicroThin offers a longer shaft and more headroom. With Japanese state-of-the-art technology, Kimono has produced a very sophisticated, exceptionally reliable, and ultrathin premium latex condom for the man who needs more room.
Product Details
Box Dimensions:
Length: 5.75 in.
Width: 2.90 in.
Depth:1.25 in.
Weight: 0.1187 lbs.

Manufacturer Code: 1616908812

---
Customers Who Bought This Product Also Bought