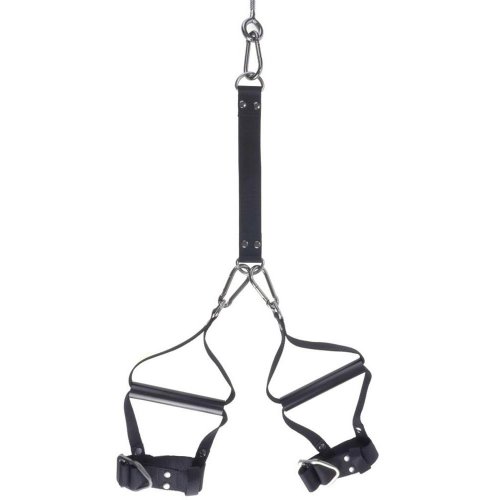 View Additional Images
---
---
Made to Play Hard!
The COMMAND Suspension Cuff Set creates a heightened sense of erotic exposure. Versatile design secures wrists firmly from above, safely held by the sturdy anchor screw included. The Suspension Cuff Set wraps each individual wrist with thick, durable industrial-strength nylon straps with fully adjustable stainless steel lock rings, allowing for a controlled, custom fit every time. Each suspension cuff features a strong metal hanging bar for supported suspension play.
Who is in COMMAND? Sir Richard's COMMAND Collection is for serious BDSM connoisseurs who demand the best. COMMAND components are forged from stainless steel and solid rivets, allowing for extreme fetish play and fulfilled fantasies without boundaries. Professional-grade carabiners support up to 300 lbs. and ensure complete control. Use the carabiners to link the Suspension Cuff Set to other COMMAND products for optimum versatility.
An extremely sturdy anchor screw attaches firmly to the ceiling. Dangling below, a heavy-duty suspension strap clips tight to two specialty Suspension Cuffs, each featuring adjustable tension and a stainless steel grip bar. Wrap a sub's wrists up and leave them hang, ready and waiting for their master's next move.
Contains
Heavy-Duty Suspension Cuffs
Heavy-Duty Suspension Strap (12.75"/32cm)
2 Professional Grade Stainless Steel Carabiners
1 Heavy-Duty Anchor Screw
Material: Stainless Steel and Nylon
Phthalates Free
Product Details
Box Dimensions:
Product is not in any packaging or box.

Manufacturer Code: PDSR1048

---
Customers Who Bought This Product Also Bought